It Was a Wicked Pissah: Our Trip to Boston
It Was a Wicked Pissah: Our Trip to Boston
For my birthday, which is August 29th, we usually go out of town.  Normally, we stay close and either go to the beach or up to the mountains for a long weekend.  This year we went a little bit farther afield and flew to Boston to hang out with our good friend Murph aka C.J. Murphy owner of Total Performance Sports and our other friend Jeff Bramhall who we know through Be Activated and RPR.   We have both been to Boston before just never together so I thought it would be fun to just hang out, laugh a lot and see what the city had to offer.
We got there early on Thursday and were met at the airport by Murph.   We headed straight to one of his favorite places, Dom's Sausage Company, Inc. for a lunch of steak tips.  Yummy!  We have been gifted tasty meat from Dom's before and it was cool to get to eat there.   Dom's is a cool breakfast/lunch joint inside a small convenience store/butcher shop.  Typical Italian atmosphere and super good food.   We just don't have stuff like that down here in South Carolina.  Check out their website: http://domsausage.com/
Next it was on to TPS to check out the gym and take a slew of "can you find the Spud, Inc. gear" pictures and see his cool equipment.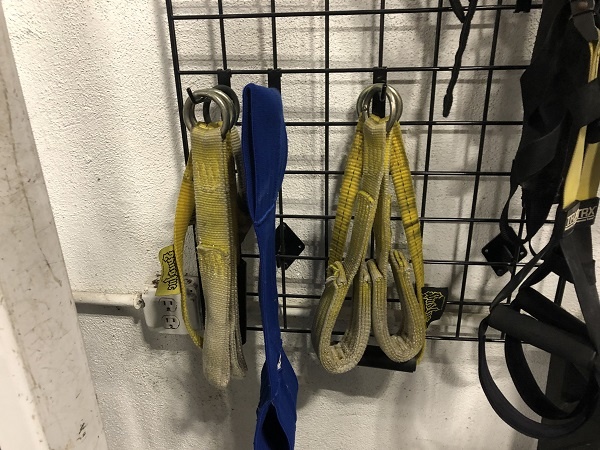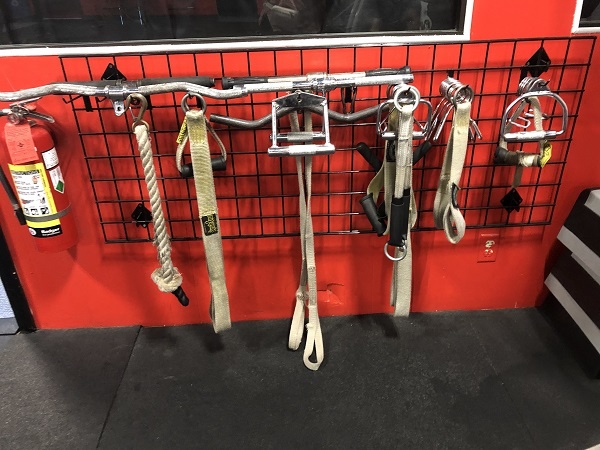 I did have to laugh because before we moved into our new facility, we would have members (they usually didn't stay members long) complain that our gym was "like a dungeon".  Ha!  TPS is the best kind of workout dungeon, not for the feint of heart and everything I love in a gym.  After checking everything out, Murph and Spud sat down and did some interviews for the TPS website and social media pages.  After that it was time to check into the hotel, nap a little and get ready for dinner at another one of Murph's haunts the 8/10 Diner.  This is a cool little local spot with great Italian food. I got the Eddie Andelman pizza and it was so delicious: mozzarella and cheddar cheese, carmelized onions, sausage and corn.  It may sound weird, but I took a chance on it and it was so good.  To finish, Murph bought me the biggest and most fantastic chocolate cake decorated with chocolate covered strawberries.  It was from his favorite bakery Luberto's and it was 7 lbs. of chocolaty goodness.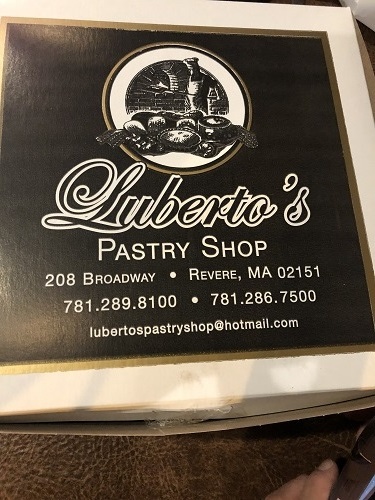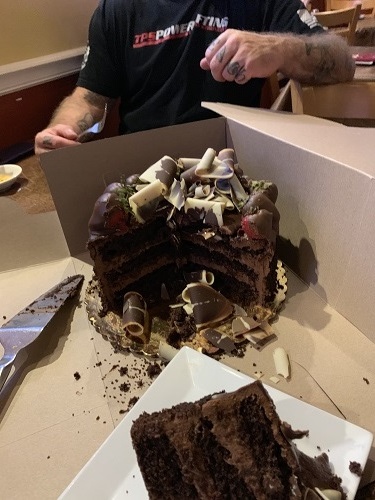 Then we were done, and it was time to call it a day and head back for some sleep.  That was just day one.
On Friday we woke up and went to yet another of Murph's favorite spots the Peter's Sunrise Restaurant for a big breakfast spread.   We were in for a surprise when he picked us up.  We had heard about his famous Cadillac and we got to ride around all day in it.  It was bad ass and made everyone stop and stare.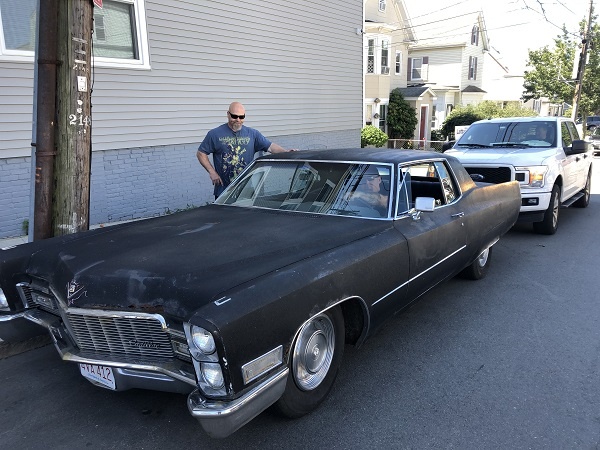 Then we went to the Science museum to see the Body Worlds exhibit.  Cool thing is that the first time I saw this exhibit many years ago it was in Boston, and here we were again.  The first time I didn't have near the background in physiology that I do now.  The three of us had great fun trying to match up RPR/Be Activated spots with the anatomy that we were seeing.  It gave us great insight into how each point worked and why.  We also, of course, had great fun making inappropriate penis jokes since none of the models was wearing underpants.
From there we went to Harvard Yard and walked around.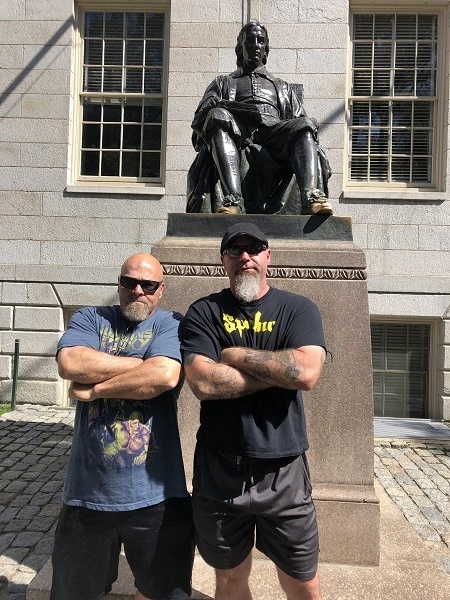 I needed to get some t-shirts and wanted pictures.  The coolest of the cool was that there is a Milk Bar bakery there and I love them.  I order their sweets online and have never actually been to one, so I loaded up on cereal milk ice cream and every other kind of gear that they sold.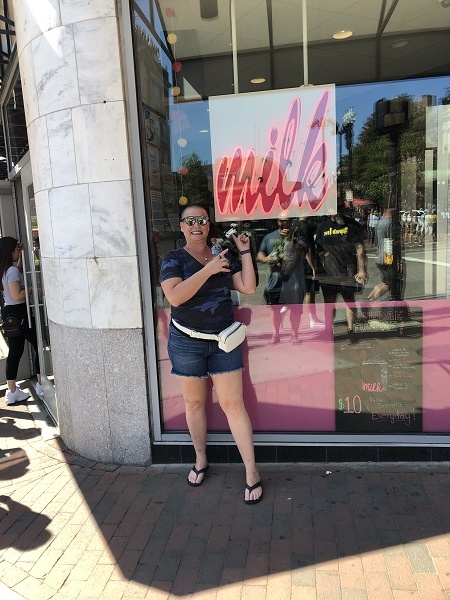 That night we went to Legal Seafood and I had a grapefruit sangria that was so tasty.  Murphs 14 year old son joined us for dinner and it was fun talking with him and getting the life perspective of a 9th grader.  Cool kid.
The next day we made Murph do the total Boston tourist experience.  Well, we started by going to the Ball Square Café in Somerville, MA (http://ballsquarecafe.com/ ) for breakfast which was the most heavenly food experience ever.  Coconut Macaroon French toast….do I need to say more??? I think not!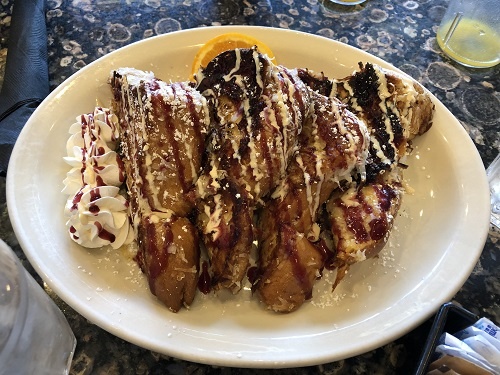 Next it was on to downtown Boston and the hop on/hop off trolley tour so we could get the highlights: The Old North Church, The Paul Revere house, Mike's Pastry, The USS Constitution (Old Ironsides), and Fenhueil Hall.   That last one was cool.  When you go upstairs to the actual hall, you can see where the early American government debated each other and worked to set up this country.  They had a mock debate going on.  Individuals from the crowd had been given cards that stated their characters name and a short monologue to deliver on their position for the debate.  This particular debate (I think) was about trade and slavery, freedom for all.  The coolest part was that the audience was a mixed crowd so each "american" character was played be people of different ethnic backgrounds with different accents.  The melting pot affect in demonstration.
After that fun time (and a nape in between) we all met up at a great little upscale restaurant called Panificio's on Charles St. for a dinner: http://www.panificioboston.com/.  Along with Murph and his son, we also had his friend Sabra and our friend Jeff and his wife Lodrina.  It was a very polite and adult evening.  I was very proud that our crowd could pull off a polite and adult evening.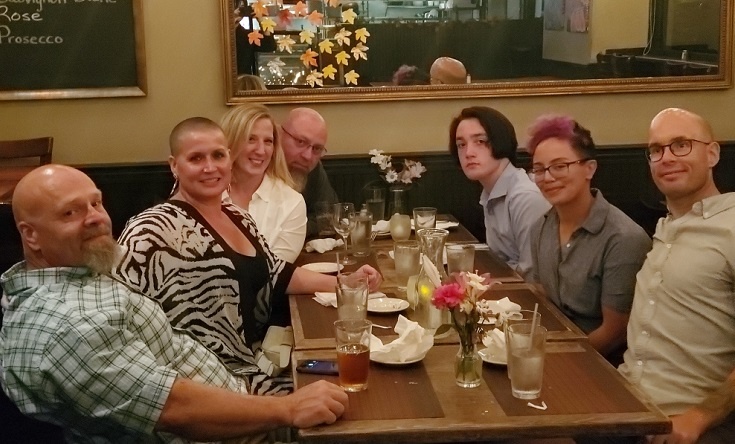 We did so much running around the other days that for our last day we just chilled.   We headed out to Sabra's house about 40 minutes from downtown and Murph grilled out some of the best hamburgers and sausages that I have ever eaten. I am not usually the kind of person who can just hang out and talk with out getting antsy to go do something.  But my new "Be Activated" self is learning the fine art of the chilling out.  We had a lovely time, the weather was beautiful and the company was great. To end the whole grand adventure Jeff and Lodrina met us back at our hotel bar for drinks and time to catch up on what they were up to.  They brought yummy middle eastern food and we had a great time just being together.
This weekend was what I needed to get my head right.  I needed to get away and just have fun and not worry about anything.  Murph was the host with the most, as we knew he would be.
One last cool thing.  Our hotel used to be the old jail.  The decorations were all from the original jail with entrances and exits in the bars and restaurants being actual entrances to jail cells.  The ambiance was super cool and at night the lobby turned into a dance club.  It is called The Liberty so if you ever go to Boston you should either stay there or at least go to the downstairs bar (The Alibi) for a drink.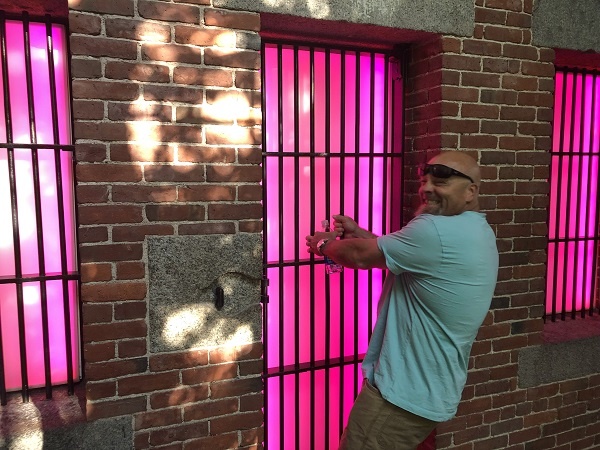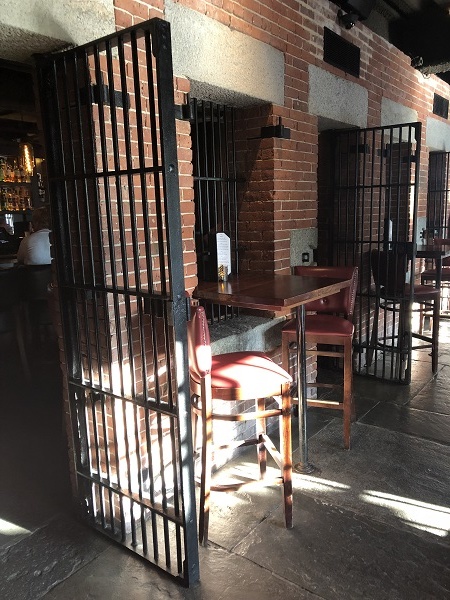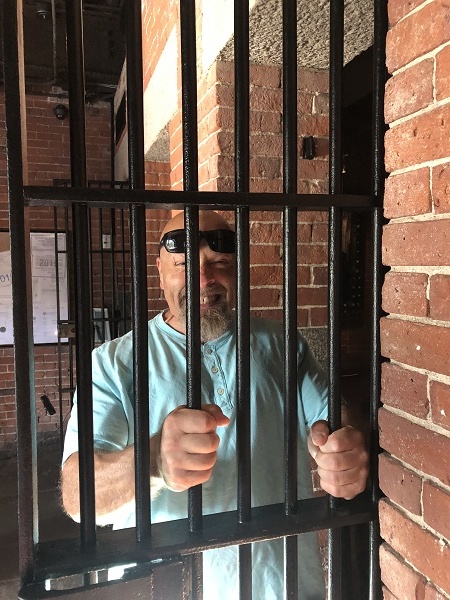 — end the article —
For more detail about us (Spud-Inc-Straps). Please feel free to call us 803-788-2852 or to message us visiting our Contact page and you can visit our Facebook page.