Description
Men's Deadlift Belt 3-ply
The Spud Inc. 3 Ply Deadlift belt is strong and secure as a leather belt. It's much more comfortable though.
The deadlift belt is great for deadlifting because it doesn't cut into your hips or stomach at the bottom of a deadlift like a leather belt does. The Deadlift Belt is made from a soft, flexible 3-ply webbing that has enough give to stay out of your way but is as tough as any leather belt you've ever worn. This is out most supportive Velcro deadlift belt! The attached strap and ring make tightening and loosening this belt effortless, while the industrial-strength Velcro keeps it tight while you lift. It also allows for a perfect fit every time. Great for all lifts too, not just Deadlifts.
Sizing:
Note: Measure the area of the stomach where the belt will be work with a relaxed stomach (not sucked in or pushed out). Subtract 2" from that measurement to find your belt size on the chart. Ex: Belly measures 36" – 2" = 34", which is in the Large size range.
If you are in between sizes, need a custom belt or have questions, please call or email us at [email protected] or 803-788-2852 
Small: 25" – 28"
Medium: 28" – 32"
Large: 33" – 38"
XL: 38" – 44" 
2XL: 44" – 50"
Custom Size: 25" or 50"
Specifications:
– Made in America
– Woven Nylon
– Men's: 28"-50" x 4"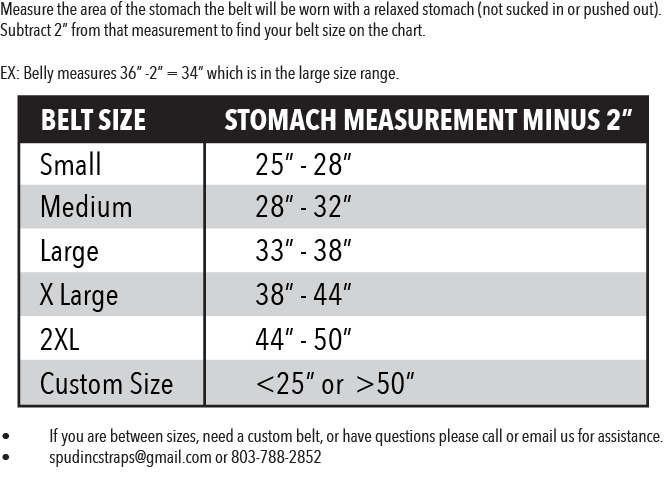 Order yours today!
If you have any questions about our products, please feel free to call us 803-788-2852 or message us visiting our Contact page. For instructional videos, check us out on YouTube and don't forget to give us a follow on Facebook and Instagram!