Posted on
By Susan "The Wife" Bartley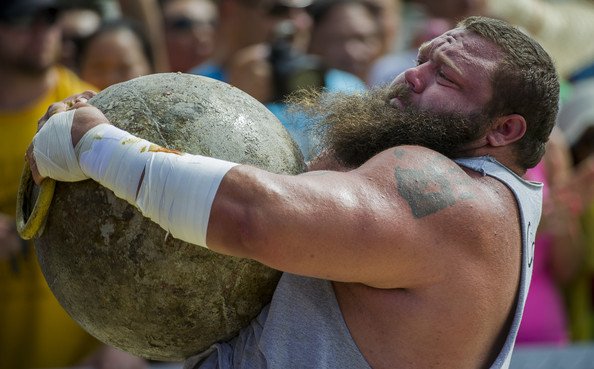 Disclaimer: That is not actually a picture of me, because well I am a girl and I don't have a beard. This is Robert Oberst and I think he is adorable and this picture is pretty hardcore so I used it instead of a boring old picture of me.
Last week for my accessory work on my second squat day I endeavored to do the stones for the first time in about 10 years. The last time I worked with them I really felt a cross over to my squat and deadlift. It is a huge understatement to say that I am slow out of the hole in both exercises. Working with the stones has always seemed to get my hips back into actually "popping" up with some speed.
Week 1 Stones:
I got some expert advice from our friend Murph at Total Performance Sports in Malden, MA and he gave me some pointers. Lift with straight arms, don't round your back, use your legs and get faster out of the hole.
This week I practiced those things. Unfortunately, I could not get the form down on the 115 lbs. So, I stayed at the 100 lb. stone and work. I did about 15 single reps. Then I dropped down to the 75 lb. stone and just did hip pops for a few sets of 6.
Week 2 Stones:
Next week I go back to a 2 week heavy phase so all the accessory work will change. For now, I am liking my training set up. I feel strong and in better shape than I have in a while.